The Truth - Scripture album (No.8) songs of contemporary gospel music.  
Released in Community North Island NZ Spring Tour 2020 and in Waikato Churches n 2019.
13 Scriptural tracks to uplift with faith and hope.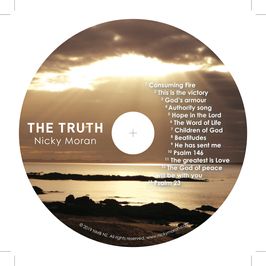 The Truth Lyrics booklet
Gospel concert for Life Group, Whangarei
Nicky is playing a live music set with her multi instrumental live looping classic covers, folk, rock, country and groovy gospel originals, plenty of nastaligic 70s. tunes. To stoke your fires and soothe your soul. Come and enjoy refreshments and relax into the sounds of the Voice with Spirit. Albums for Sale. Dont miss out on this experience on Nicky's nationwide 4 month highways and byways tour of NZ. Start time to be confirmed. 3 hour set.
Recovery Church is a great place for those making a new start overcoming their past...Nicky Moran is sharing songs and speaking on the 2023 Tour. Uplifting songs to strengthen resolve, giving meaning, purpose and bringing that inner healing and words of encouragement to soothe the soul.
Nicky is touring churches, rehabs, pubs, Aglow and various other community groups from January to April 2023 to bring a message in song of hope and aroha to save, deliver and heal. Come and join us. There will be a kai provided. Prayer ministry offered. Albums available. Koha welcome.